SUPPORT
Order Information
Shipping
Warranty
Lasers

Crystals

Precision Optics

Laser Accessory Parts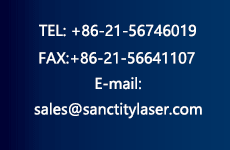 For pricing, information, and questions please contact us directly. We can be easily reached at any time and we respond to most requests for pricing and additional information within 24 hours. We accept orders by Mail, Phone, Fax, or E-mail. Please send written correspondence and confirming order to:
Company Name:

Shanghai Sanctity Laser Technology Co., Ltd.

Address:

6F, Building 59, No.800 Hulin Road Shanghai 200431 P. R. China

Web:

www.sanctitylaser.com

E-mails:

sales@sanctitylaser.com

info@sanctitylaser.com

sanctitylaser@outlook.com

TEL:

+ 86 - 21 - 56746019

FAX:

+ 86 - 21 - 56641107
The following information is offered as a general guideline for ordering products from

Sanctity Laser

. For a copy of our complete terms and conditions, please contact us.To accept an order we will need the following information about the product: Product description, Quantity. We also need the following information about our customers.
1. Complete Company Name
2. Shipping Address
3. Billing Address
4. Purchase Order Number
5. Contact Name and phone Number
QUOTATION

For enquiry our sales engineer will make a formal "Quotation List", with the "Products Data sheets".

The Quotation including customer information, product name, model, product price and terms, etc.

Customer can confirm all terms with this document before the order.

QUOTATION SAMPLE

The Quotation List Sample please Click to this icon:
PAYMENT
Prepayment is required for all new customer orders. All payments are in US dollars unless otherwise approved. Invoice amount includes total price of items, shipping and handling charges.
SANCTITY LASER Acceptable payments are: Wire transfer, Master Card [ by PayPal ], Western Union and Cheque.