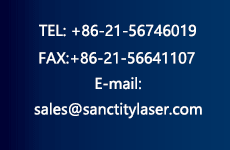 Applications

Cell Sorting
DNA Sequencing
Flow Cytometr
Biomedical Instrument
Interferometry
Spectrum Analysis
Chip Inspection
Medical Equipment
Scientific Research
Raman Spectroscopy

Oscillograph
The laser noise value is one of the main factors measuring the performance of the laser.
The lower laser noise value, the lower the probability that the output light intensity will have an instantaneous peak, the higher of power stability of the laser, and the less damage to the optical components in the laser cavity, thus extending the working life of the laser.
The essence of which is: When the laser operates continuously under the condition of multiple longitudinal modes, due to the sum frequency effect in the frequency doubling crystal and the cross-saturation effect in the working material, each longitudinal mode is coupled to each other, make the laser output intensity fluctuate greatly with time, chaotic motion characteristics, generally the frequency of laser light intensity fluctuation is tens of hertz, this is the well-known "green light problem" and "blue light problem".
At present, the method of eliminating laser noise and realizing low noise operation of lasers can be summarized into two categories:
(1) Change of laser polarization that isotropic crystal function in determining the linear polarization state.
(2) Forced laser single frequency operation: when the laser working in the state of single longitudinal mode, will not produce and frequency in the frequency doubling crystal effect, eliminate the "green light", laser output is stable produced.
Get the low noise way 1.

Get the low noise way 2.

Model schematic of dual waveplate method.

Cavity configuration of intracavity frequency doubling with compansator

.

Get the low noise way 3.

Intracavity frequency doubling laser with fast axis of Nd:YAG and KTP into ψ.
Low Noise Lasers Index

Wavelength [ nm ]
360
375
395

405

445
450
Output Power [ mW ]

1 - 100

1 - 500

1 - 100

1 - 600

1 - 4000

1 - 1000

Laser Type

DPSS LASER

DIODE LASER

DIODE LASER

DIODE LASER

DIODE LASER

DIODE LASER

Link
Wavelength [ nm ]
457
473

480

490

514.5

515

Output Power [ mW ]

1 - 8000

1 - 1500

1 - 50

1 - 2000

1 - 50

1 - 100

Laser Type

DPSS LASER

DPSS LASER

DPSS LASER

DIODE LASER

DIODE LASER

DPSS LASER

Link
Wavelength [ nm ]

520

523.5

526.5

532
543
556
Output Power [ mW ]

1 - 2000

1 - 300

1 - 300

1 - 20000

1 - 500

1 - 1000

Laser Type

DIODE LASER

DPSS LASER

DPSS LASER

DPSS LASER

DPSS LASER

DPSS LASER

Link
Wavelength [ nm ]
561
589
593.5
635
638
639
Output Power [ mW ]

1 - 1000

1 - 500

1 - 350

1 - 7000

1 - 6000

1 - 1000

Laser Type

DPSS LASER

DPSS LASER

DPSS LASER

DIODE LASER

DIODE LASER

DPSS LASER

Link
Wavelength [ nm ]
650
656.5
660
660
671
680
Output Power [ mW ]

1 - 6000

1 - 500

1 - 6000

1 - 1000

1 - 5000

1 - 1500

Laser Type

DIODE LASER

DPSS LASER

DIODE LASER

DPSS LASER

DPSS LASER

DIODE LASER

Link
Wavelength [ nm ]
690
721
780
785
793
800
Output Power [ mW ]

1 - 1000

1 - 200

1 - 2500

1 - 2000

1 - 2000

1 - 2000

Laser Type

DIODE LASER

DPSS LASER

DIODE LASER

DIODE LASER

DIODE LASER

DIODE LASER

Link
Wavelength [ nm ]
808
825
830
850
880
885
Output Power [ mW ]

1 - 20000

1 - 3000

1 - 2000

1 - 2000

1 - 2000

1 - 2000

Laser Type

DIODE LASER

DIODE LASER

DIODE LASER

DIODE LASER

DIODE LASER

DIODE LASER

Link
Wavelength [ nm ]
914
915
940
946
965
975
Output Power [ mW ]

1

- 1000

1 - 8000

1 - 9000

1 - 1000

1 - 2000

1 - 5000

Laser Type

DPSS LASER

DIODE LASER

DIODE LASER

DPSS LASER

DIODE LASER

DIODE LASER

Link
Wavelength [ nm ]
980
1030
1047
1053
1064
1064
Output Power [ mW ]

1 - 8000

1 - 50

1 - 1000

1 - 2000

1 - 2000

1 - 25000

Laser Type

DIODE LASER

DPSS LASER

DPSS LASER

DPSS LASER

DIODE LASER

DPSS LASER

Link
Wavelength [ nm ]
1085
1122
1310
1313
1319
1342
Output Power [ mW ]

1 - 300

1 - 300

1 - 50

1 - 1000

1 - 2000

1 - 7000

Laser Type

DPSS LASER

DPSS LASER

DIODE LASER

DPSS LASER

DPSS LASER

DPSS LASER

Link
Wavelength [ nm ]
1450
1470
1530
1550
1870
1905
Output Power [ mW ]

1 - 300

1 - 3000

1 - 3000

1 - 3000

1 - 500

1 - 500

Laser Type

DIODE LASER

DIODE LASER

DIODE LASER

DIODE LASER

DIODE LASER

DIODE LASER

Link
Wavelength [ nm ]
1940
2200
-
-
-
-
Output Power [ mW ]

1 - 500

1 - 500

-

-

-

-

Laser Type

DIODE LASER

DIODE LASER

-

-

-

-

Link