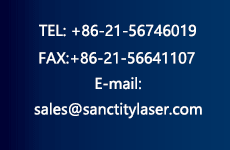 Applications

Laser Pointing
Fiber Test
Laser Collimating
Astro-Observation

UV Photodevelopment

Medical Instruments
Laser Light Source by Hand
IR illumination for Military

A Laser Pointer Display Show
SANCTITY LASER
provide various Laser pointer, Fiber test pointer and OEM laser module for pointer.
The low power safe laser pointer, output power
accord
with
Laser Safe Grade I and II, every wavelength diode laser pinter or DPSS Laser pointer all use special design safe circuit board, low temperature start up, laser pointer of long time stability test, so it can keep the output power stability, the output power will not sudden increase, it safe for general usage.
The high power laser pointer most for Astro-Observation,
UV Photodevelopment
, IR illumination for Military, etc. , and the fiber test pointer, output power from 5mW up to 1000mW. Output mode of CW output and pulse output two types, except standard pointers we also provider waterproof & dustproof pointer
, whole series pointer
output power stable, low temperature can start up, compact dimensions, match the high efficiency rechargeable lithium battery and recharger, can meet various demand.
The OEM pointer laser modules for your own laser pointers, the OEM pointer laser modules quality same to Sanctity Laser laser pointer, standard all by spot goods, if you have other request of bracket, please contact to our sales engineer, them will help you design the customize products.
LASER SAFE CLASS OF I, II, IIa, IIIa, IIIb, IV AVAILABLE
PRODUCTS CODE EXPLAIN

MODEL :

SSL - LP - 405 - 0001 - D

SSL :

Shanghai Sanctity Laser

LP :

Laser Pointer

405 :

Laser wavelength of 405nm

0001 :

Laser output power of "milli watt" 001 = 1mW 100 = 100mW

D :

D : Dot Output
S : Dot Output & Laser Sword Output
F : Fiber Test

P/N :

Every laser products have a exclusive 8bit numbers
Laser Pointers Index

Wavelength [ nm ]

405

445

450

473

520

532

Output Power [ mW ]

0.4 - 600

0.4 - 2000

0.4 - 2000

0.4 - 100

0.4 - 50

0.4 - 500

Laser Type

DIODE

DIODE

DIODE

DPSS

DIODE

DPSS

Link
Wavelength [ nm ]

589

593.5

635

650

660

780

Output Power [ mW ]

0.4 - 50

0.4 - 50

0.4 - 200

0.4 - 800

0.4 - 800

0.4 - 300

Laser Type

DPSS

DPSS

DIODE

DIODE

DIODE

DIODE

Link
Wavelength [ nm ]

808

980

1064

1342

RG

RGB

Output Power [ mW ]

0.4 - 1000

0.4 - 800

0.4 - 500

0.4 - 300

-

-

Laser Type

DIODE

DIODE

DPSS

DPSS

-

-

Link