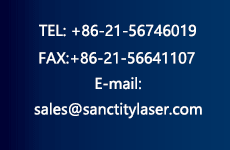 Applications

Measurement
Laser Sources
Laser Welding
Laser Cutting
Laser Printing
Laser Marker System
Industrial Instruments
Optical instruments
Scientific Research
Physics Experiments

Oscillograph
A Q-switched laser is a laser to which the technique of active or passive Q switching is applied, so that it emits energetic pulses. Typical applications of Q-switched lasers are material processing, pumping nonlinear frequency conversion devices, range finding, and remote sensing.
Q switching is a technique to obtain energetic short pulses from a laser. Here, the cavity losses are kept on a high level until the pumped gain medium has stored a significant amount of energy. Then, the losses are suddenly reduced to a small value, so that the power of the laser radiation in the cavity builds up very quickly. This results in a short pulse, the energy of which can be in the millijoule range even for rather small lasers. Lasers to which such a technique is applied are called Q-switched lasers.

Q-Switched Pulsed Lasers Index

Wavelength [ nm ]
266
355

457

523.5

526.5
532
Output Power [ μJ ]

0.1 - 8

0.1 - 100

1 - 15

1 - 10

1 - 10

1 - 500

Laser Type

DPSS LASER

DPSS LASER

DPSS LASER

DPSS LASER

DPSS LASER

DPSS LASER

Link
Wavelength [ nm ]
593.5
656.5

660

1047

1053

1064

Output Power [ μJ ]

1 - 10

1 - 5

1 - 5

1 - 30

1 - 50

1 - 250

Laser Type

DPSS LASER

DPSS LASER

DPSS LASER

DPSS LASER

DPSS LASER

DPSS LASER

Link
Wavelength [ nm ]

1313

1319

-

-

-

-

Output Power [ μJ ]

1 - 30

1 - 10

-

-

-

-

Laser Type

DPSS LASER

DPSS LASER

-

-

-

-

Link