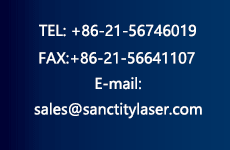 Applications

Optical Fiber Communication
Medical Instruments
Laser Welding
Laser Cutting

Fiber Holography

Laser Marking

Semiconductor Processing

Non-Contact Inspection

Scientific Research
Laser 3D Display System

A 635nm Fiber Output Laser Beam
SANCTITY LASER
provide " Single Mode Output " and " Multimode Output " two types of fiber output lasers.
Our company all lasers can make to fiber output laser, after customer choosing the laser type and fiber type, then our engineers will adjust the laser beam divergences suitable to fiber output laser and choosing the optical focus parts, copling and adjust the beam to the fiber, then the fiber laser finished.
Please check the " Fiber Coupling Efficiency List " and " Laser Type List " below, you can click the link of the " Laser Types List " to each laser specification page, or click the laser menu on this page left side, also could direct contact to our sales engineers, them will provide more adive for you.
473nm

532nm

635nm

808nm

All fiber protected by metal cover

Connector of SMA 905

Connector of FC / PC

Notes For Fiber Laser Connect Method of SMA 905
Notes For Fiber Laser Connect Method of FC/PC
Fiber Collimator [ For fiber end side ]

All connectors and collimators is Dismountable
MMF [ Multi Mode Fiber ] Comparison with SMF [ Single Mode Fiber ]
The main difference between multi-mode and single-mode optical fiber is that the former has much larger core diameter, typically 50–100 micrometers; much larger than the wavelength of the light carried in it. Because of the large core and also the possibility of large numerical aperture, multi-mode fiber has higher "light-gathering" capacity than single-mode fiber.
In practical terms, the larger core size simplifies connections and also allows the use of lower-cost electronics such as light-emitting diodes (LEDs) and vertical-cavity surface-emitting lasers (VCSELs), single-mode fibers require more expensive laser sources.
Single mode fibers exist for nearly all visible wavelengths of light. However, compared to single-mode fibers, the multi-mode fiber bandwidth–distance product limit is lower. Because multi-mode fiber has a larger core-size than single-mode fiber, it supports more than one propagation mode; hence it is limited by modal dispersion, while single mode is not.
Fiber Coupling Efficiency List

LASER TYPE

DPSS LASER
TEM

00

> 40%

> 75%

> 80%

> 85%

> 90%

> 95%

Multi Transverse Mode

> 30%

> 65%

> 70%

> 80%

> 90%

> 90%

DIODE LASER

TE

00

> 20%

> 65%

> 80%

> 80%

> 90%

> 90%

Multi Transverse Mode

> 10%

> 35%

> 70%

> 75%

> 80%

> 85%


Laser Wavelengths & Output Power List

LINK

WAVELENGTH

TYPE

OUTPUT POWER

LINK

WAVELENGTH

TYPE

OUTPUT POWER

266nm

DPSS

1 - 10mW

780nm

Diode

1 - 2500mW

320nm

DPSS

1 - 40mW

785nm

Diode

1 - 2000mW

355nm

DPSS

1 - 100mW

793nm

Diode

1 - 2000mW

360nm

DPSS

1 - 100mW

800nm

Diode

1 - 2000mW

375nm

Diode

1 - 500mW

808nm

Diode

1 - 20000mW

380nm

Diode

1 - 300mW

825nm

Diode

1 - 3000mW

395nm

Diode

1 - 100mW

830nm

Diode

1 - 2000mW

405nm

Diode

1 - 600mW

850nm

Diode

1 - 2000mW

430nm

DPSS

1 - 10mW

880nm

Diode

1 - 2000mW

445nm

Diode

1 - 15000mW

885nm

Diode

1 - 2000mW

450nm

Diode

1 - 1000mW

914nm

DPSS

1 - 1000mW

457nm

DPSS

1 - 8000mW

915nm

Diode

1 - 8000mW

473nm

DPSS

1 - 1500mW

940nm

Diode

1 - 9000mW

480nm

DPSS

1 - 200mW

946nm

DPSS

1 - 1000mW

490nm

Diode

1 - 2000mW

965nm

Diode

1 - 2000mW

514.5nm

Diode

1 - 50mW

975nm

Diode

1 - 5000mW

515nm

DPSS

1 - 500mW

980nm

Diode

1 - 8000mW

520nm

Diode

1 - 10000mW

1030nm

DPSS

1 - 50mW

523.5nm

DPSS

1 - 1000mW

1047nm

DPSS

1 - 1000mW

526.5nm

DPSS

1 - 1000mW

1053nm

DPSS

1 - 2000mW

532nm

DPSS

1 - 20000mW

1064nm

Diode

1 - 2000mW

543nm

DPSS

1 - 2000mW

1064nm

DPSS

1 - 25000mW

556nm

DPSS

1 - 2000mW

1085nm

DPSS

1 - 300mW

561nm

DPSS

1 - 2000mW

1122nm

DPSS

1 - 300mW

589nm

DPSS

1 - 3500mW

1310nm

Diode

1 - 50mW

593.5nm

DPSS

1 - 1000mW

1313nm

DPSS

1 - 1000mW

635nm

Diode

1 - 7000mW

1319nm

DPSS

1 - 2000mW

638nm

Diode

1 - 6000mW

1342nm

DPSS

1 - 7000mW

639nm

DPSS

1 - 1000mW

1450nm

Diode

1 - 300mW

650nm

Diode

1 - 6000mW

1470nm

Diode

1 - 3000mW

656.5nm

DPSS

1 - 1000mW

1530nm

Diode

1 - 3000mW

660nm

Diode

1 - 6000mW

1550nm

Diode

1 - 3000mW

660nm

DPSS

1 - 2000mW

1870nm

Diode

1 - 500mW

671nm

DPSS

1 - 6000mW

1905nm

Diode

1 - 500mW

680nm

Diode

1 - 1500mW

1940nm

Diode

1 - 500mW

690nm

Diode

1 - 1000mW

2200nm

Diode

1 - 500mW

721nm

DPSS

1 - 800mW

-
-
-
Fiber Laser Test report included following test items:

Sample Reprot
Beam Profile Test
Power/Energy Stability Test
Power Adjust Curve Graph

Laser Noise Test

[ TEM00 Mode Type ]

[ Power Adjustable Type ]

F-P Interferometer Single-frequency Mode Test
Coherent length Test

M² Factor Test

Wavelengths Test

[ need request ]
Note:

1.

Laser price including "laser head" and "power supply".

Sanctity Laser not sell "laser head" or "power supply" individually.

2.

Download the "Notes For Fiber Laser Connect Method SMA905" by PDF file please click:

3.

Download the "Notes For Fiber Laser Connect Method FC/PC" by PDF file please click:

4.

Operation Instruction For Lasers:

5.

Notes For TTL and Analog Modulation:

TTL

Analog

6.

Notes For Warranty and Safe:

7.

Explain for every laser specification please check here:

8.

More request for the products please contact to our Customer Service Team:
MODEL :

SSL - 671 - 0001 - XXM - XF

SSL :

Shanghai Sanctity Laser

671 :

Laser wavelength of 671nm

0001 :

Laser output power of "milli watt" 0001 = 1mW 1000 = 1Watt

XXM :

10TM of 10KHz TTL Modulation & 10AM of 10KHz Analog Modulation

F :

SF :

Single Mode Fiber Output

MF :

Multimode Fiber Output

P/N :

Every laser products have a exclusive 8bit numbers