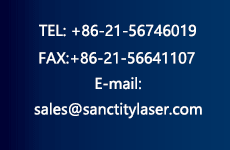 Applications

Laser Display
Laser Light Show
Collimating
Communication
Laser Sources
Industrial Equipment
Medical Equipment
Laser Printing
Optical Instruments
Scientific Research

A 589nm Laser Beam x 30multiples
This is air cooled DPSS laser with CW output at 589nm, available for a range of light show, laboratory and industrial applications. Power output ranges from 1mW to 3500mW. Features is Long lifetime, compactness size, high stability, high power, excellent laser beam quality, ruggedness and low total cost of ownership.

Cylindrical transverse mode patterns
Normal Laser Test report included following test items:

Sample Reprot
Beam Profile Test
Power/Energy Stability Test
Power Adjust Curve Graph

Laser Noise Test

[ TEM00 Mode Type ]

[ Power Adjustable Type ]

F-P Interferometer Single-frequency Mode Test
Coherent length Test

M² Factor Test

Wavelengths Test

[ need request ]
PRODUCTS CODE EXPLAIN

MODEL :

SSL - 589 - 0001 - XXM - D

SSL :

Shanghai Sanctity Laser

589 :

Laser wavelength of 589nm

0001 :

Laser output power of "milli watt" 0001 = 1mW 1000 = 1Watt

XXM :

10TM of 10KHz TTL Modulation & 10AM of 10KHz Analog Modulation

D :

D :

Dot Output

L :

Line Output

F :

Fiber Output

LN :

Low Noise

S :

Single Frequency

Q :

Q-Switched Pulsed

P/N :

Every laser products have a exclusive 8bit numbers
589nm DPSS Laser Type List

Wavelength
Output Power (mW)
Laser Type
Stability

| | | |
| --- | --- | --- |
| 589nm | | |

CW Output Lasers
5%, 3%, 1%

| | | |
| --- | --- | --- |
| 589nm | | |

Low Noise Lasers
5%, 3%, 1%

| | | |
| --- | --- | --- |
| 589nm | | |

Single Frequency Lasers
5%, 3%, 1%

| | | |
| --- | --- | --- |
| 589nm | | |

Fiber Output Lasers
5%, 3%, 1%

| | | |
| --- | --- | --- |
| 589nm | | |

Line Output Lasers
5%, 3%, 1%