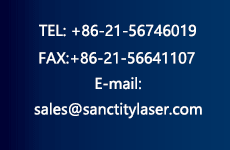 Applications

Laser Display System
Industry Detection
LIDAR
Medical Instruments
Interferometry
Scientific Research
Biomedical Instrument
Raman Spectroscopy
Optical Instruments
Mini Laser Show Equipment

A Laser Modules Show
LASER MODULE
is a simple laser, made by [ Laser Diode ] [ Optical Lens ] and [ Laser Crystal ]. Features is compactness size, high stability, various output modes [ Dot, Line and Cross Line Output ], drive by direct current power supply, low operation LD current and low cost, widely used to laser technologies domain.
SANCTITY LASER
provide Industry Laser Modules, wavelengths of 400nm to 1064nm, we encapsulation the chip to laser diode, design best laser Printed Circuit Board and power supply by ourself, customer can point the modules output power since 0.1mW to hundreds of milliwatt, laser safe grade accord with I to IV levels, modules can keep the power stability of any output power.
Products have Electrode Reverse Protection, Electrostatic Protection, broad drive voltages and all material accord with ROHS, can keep the laser modules working of longtime and diode of long lifetime, we can make 30000 - 50000pcs laser modules, standard products repair rate < 2‰, and we will keep improve the products quality, welcome dear customers try to our products.
If our standard products can not meet your requirements, please contact to our sales engineer, we will accord with your requirements to design and make products.
5g

8g

9g

9g

6g

5g

7g

10g

15g

6g

10g

20g

25g

28g

30g
Module Connector Types

MOLEX

2Pin 5057-9402

Dupont

2.5W 2Pin 2500-02

DC

5.5mm×2.1mm
LASER SAFE CLASS OF I, II, IIa, IIa, IIIb, IV AVAILABLE
PRODUCTS CODE EXPLAIN

MODEL :

SSL - LM - 405 - XXX - D

SSL :

Shanghai Sanctity Laser

405 :

Laser wavelength of 405nm

001 :

Laser output power of "milli watt" 001 = 1mW 100 = 100mW

D :

D : Dot Output
L : Line Output
C : Cross Line Output

P/N :

Every laser products have a exclusive 8bit numbers
Laser Modules Index

Wavelength [ nm ]

405

445

473

520

532

635

Output Power [ mW ]

0.1 - 150

0.1 - 150

0.4 - 30

0.1 - 100

0.1 - 150

0.1 - 60

Laser Type

DIODE

DIODE

DPSS

DIODE

DPSS

DIODE

Link
Wavelength [ nm ]

650

660

670

780

808

830

Output Power [ mW ]

0.1 - 200

0.1 - 200

0.1 - 20

0.1 - 200

0.1 - 5000

0.1 - 200

Laser Type

DIODE

DIODE

DIODE

DIODE

DIODE

DIODE

Link
Wavelength [ nm ]

850

980

1064

-

-

-

Output Power [ mW ]

0.1 - 200

0.1 - 4000

0.1 - 500

-

-

-

Laser Type

DIODE

DIODE

DPSS

-

-

-

Link

-

-

-